Hi Dear,
Words can't explain how thrilled we are to announce that we have reached our 10,000 registered users milestone on DEXA.
It was a journey of 9months and we are super excited to have come this far.
As we celebrate reaching the milestone of 10,000 registered users, we want to launch our "Digital Skills Contest," to gift 2 courses each to 10 people and 3Months of Data Subscription to 1 Person for FREE and we invite you to participate!
We want to showcase the incredible achievements, aspirations and learning experiences within our community.
This contest is an opportunity for you to reflect on your journey with our platform and share how it will positively impact your digital skill career development.
We believe that your story or aspiration can inspire others and demonstrate the power of lifelong learning.
Here are the details of the contest:
1. Submission Format:
You will add your picture to a DP design using the link https://getdp.co/ddsc and share your content on Social Media. Tag us @Digital Exchange Academy on Facebook/LinkedIn, and @Learnwithdexa on Twitter.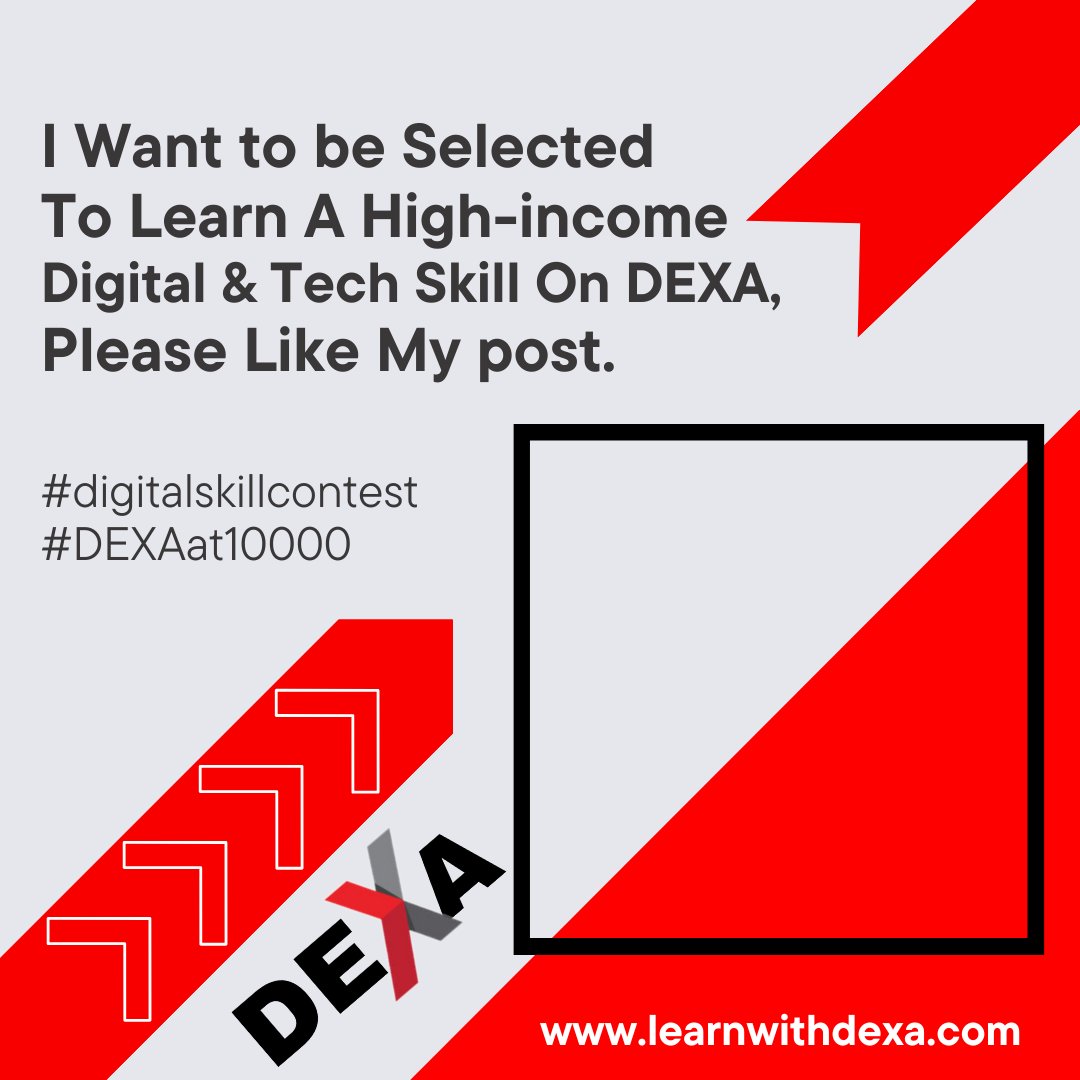 (Ensure to crop out the extra tag below the design)
There are two types of story you can choose from.
a. Success: For people who already have digital skills and have seen results in their skill. You can tell your short story to inspire others.
Eg "I learnt copywriting in 2021, and ever since I acquired the skill, I've been able to help brands write copies that has helped them sell their products faster, It has been an incredible source of income and now I wish to add __[Insert the Course You Wish To Learn]_____ to my list of skills. Please Like my post so that I can get selected to learn on DEXA. #DEXAdigitalskillsStory .
b. Aspiration: Tell us about the Digital skill you want to learn and why you wish to learn it. Make it short and straight to the point.
2. Submission Guidelines:
Please ensure that your post is short, inspiring, and highlights the value of our platform. Feel free to share your starting point, the progress you have made, any challenges you have overcome, and how our courses have contributed to your digital skills growth.
3. How to Enter:
After generating your design with the link shared above, Visit our dedicated contest form page https://forms.gle/6PRsk5vBuRFoAPhH7 to submit your details and a link to your post on social Media. The submission form will require some basic information such as your name, contact details, course of choice and link to your entry.
4. Prizes:
We are excited to offer 3Months of Data Subscription any two courses of your choice on DEXA to the contest winners. By participating, you not only have a chance to win these valuable courses but also gain a competitive edge in your career.
Here are the Courses You can Choose From
Upwork Freelancing Bootcamp
Visual Effects and Motion Graphics Animations
Video Editing Masterclass – Adobe Premiere Pro for Beginners
Advanced Digital Marketing for Business
Complete Copywriting Course
Complete Crypto Trading Course
Complete WordPress Website Developer Course
Affiliate Marketing Course
Product Management Essentials
5. Judging Criteria:
The top 30 people with the highest Social Media engagement will be posted on our page for voting. While on our Page for the second round, the top 10 people with the Highest engagement will be awarded with the courses.
6. Deadline:
Please submit your entry before 3rd of July 2023. Late submissions will not be considered.
We encourage you to engage with the contest and fellow participants by using the hashtag #DEXADigitalSkillsStory. Feel free to TAG your friends on social media and tag us so that we can amplify your story.
Winners will be announced in a special event where we will celebrate their achievements and express our gratitude for everyone's participation. Even if you don't win, your story may still be featured on our blog, social media channels, or newsletter as part of our ongoing efforts to inspire and motivate our growing community.
Thank you for being an integral part of DEXA and for embracing the journey of continuous learning. We can't wait to hear your digital skills aspiration or success story and celebrate your achievements!
If you have any questions or need further assistance, please don't hesitate to reach out to our support team at academy.dexa@gmail.com
Best regards.